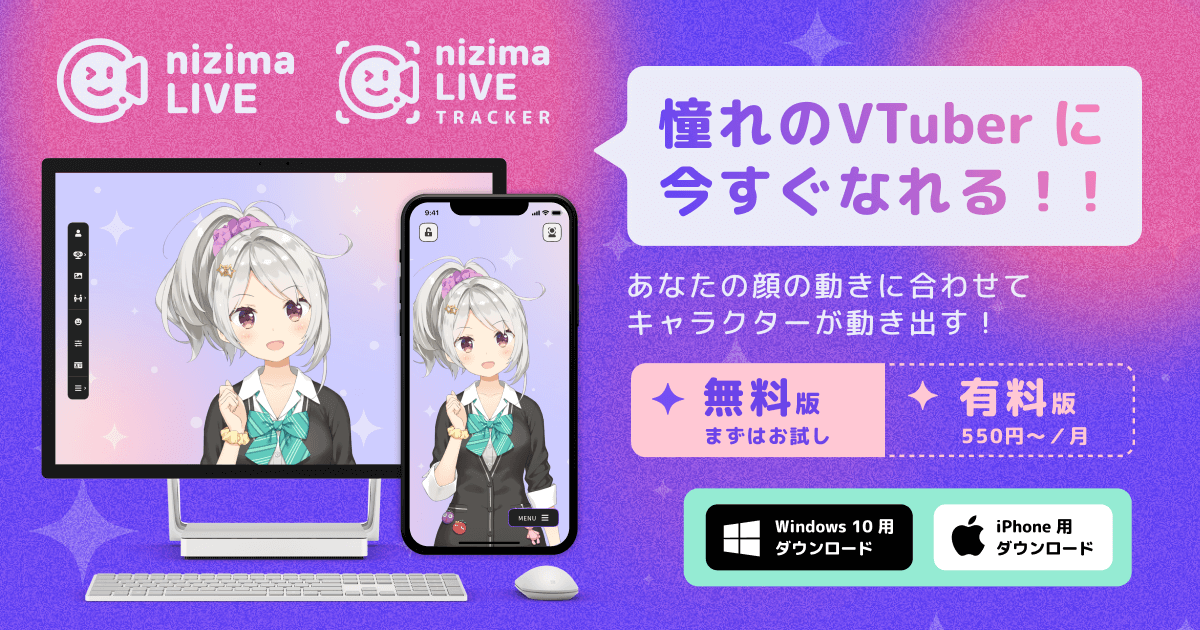 nizima LIVE is a PC application that allows anyone to easily move a Live2D model by recognizing and tracking facial expressions.
From beginners who are new to the tracking app to intermediate and above who are already familiar with Live2D, you can enjoy it for various purposes such as VTuber activities, avatars for calls and meetings.
Features of nizima LIVE
Simple operability that anyone can immediately become a VTuber!
It is a simple design that even those who have no experience with VTuber can intuitively understand. In addition, the screen explanation page and tutorial page for beginners support the flow from application operation to distribution.
Collaboration function with other users!
By linking nizima LIVE with each other, you can collaborate with other users. Enliven delivery with unparalleled high-quality image quality.
Higher quality by connecting to iPhone!
If you connect to the mobile version of the app "nizima LIVE TRACKER" and use your iPhone as a camera, you can express even more lively movements than a webcam.
You can make detailed model settings within the app!
You can set model parameters and make fine adjustments to physics in the app, which you had to do on the Live2D Cubism Editor.
You can also link tracking items and parameters within the app.
How to install / boot
If you are using nizima LIVE for the first time, please follow the steps below to install and start it.
Rate plan
Please see below for the function comparison of nizima LIVE free plan and paid plan, paid plan price list, purchase method, etc.
When in trouble …
Please see the following page for the explanation of each screen and function.
Please see the following page for the operation method for each purpose such as how to add a Live2D model, how to connect to an iPhone, and how to set a shortcut key.
The specifications of nizima LIVE items are as shown in the following page. Please refer to the following page when you create items or sell them at nizima.
nizima LIVE official Discord server
We operate the official Discord server as a place where users can easily interact with each other, make requests for nizima LIVE, report bugs, and ask questions.
Anyone who is interested in nizima LIVE, such as Live2D modeler, VTuber, streamer, etc., can participate for free.
Please feel free to join us and use it as a place to exchange information about nizima LIVE and interact with other users!
– nizima LIVE official Discord server participation URL
https://discord.gg/6nDN4a3aAf
FAQ
1. Is there a cost to use?
There are free and paid versions of nizima LIVE, and the free version can be used by registering for a nizima account (with some functional restrictions).
Please check the price plan for details on the function comparison between the free version and the paid version and the price.
You can download nizima LIVE TRACKER from the App Store and use it for free.
2. What is the difference between nizima LIVE and nizima LIVE TRACKER?
nizima LIVE is a desktop app and nizima LIVE TRACKER is a mobile app.
For mobile, by connecting to desktop, you can realize a live2D model expression that is more lively than a webcam.
For desktop, there are collaboration functions that mobile does not have, and it is the best app for VTuber activities.
3. What kind of equipment do you need to use it?
The required equipment differs depending on whether you use only nizima LIVE or use nizima LIVE and nizima LIVE TRACKER together.

For nizima LIVE only
– PC compatible with the operating environment
– Internet environment
– Web camera

When using nizima LIVE and nizima LIVE TRACKER
– PC compatible with the operating environment
– Internet environment
– IPhone (iPhone X or later, iOS 14.0 or later, storage capacity: 500MB) * download of nizima LIVE TRACKER (free) is required.


In addition to the above, a microphone is required for distribution.
contact us
Please contact us from the contact us form.