nizicon is a contest for illustrations and Live2D works. The concept is: "Let's bring all the great illustrations to life! The concept is "Let's bring all the great illustrations to life! We have a user voting category.
We will be awarding prizes to the entries that received the highest number of votes from among those voted for by everyone during this period.
Your supportive comments and votes are the key to creating the next generation of creators!

Please sign in to nizima and cast your vote.

User Voting Overview
organizing
Live2D Inc.
Target Contests
voting period
Monday, May 16, 2022 – Monday, May 23, 2022
announcement of winning a prize or place
Scheduled for late May 2022

Winners will be contacted individually by nizima management via e-mail.
Once the winners are confirmed, we will announce the list of winners on each contest page.
Note: Prizes will be sent to the email address registered with nizima. If you have a domain name, please allow the live2d.com domain.
Note: If you receive an e-mail from nizima management, please reply within the time period specified in the e-mail. If you do not reply, we will assume that you have declined the offer and the drawing will be void.
Note: If we determine that you have committed a fraudulent act, etc., the prize will be voided.
Note: You are not allowed to vote for your own post.
Awards and Voting Privileges
For Creators: User Vote Award
Amazon gift certificate for 50,000 yen
Amazon gift certificate for 20,000 yen
Note: The same author may receive awards other than the User Vote Award, but the User Vote Award cannot be duplicated.
Note: Works entries in the relevant nizicon competition are eligible.
However, nizicon has a requirement that entries must be already sold. Entries that are currently under review or are no longer selling will not appear on the list of entries.
Note: Unlike regular awards, the award winners are determined solely by nizima users' votes. Voting by nizima management members is not conducted.
Creators who have entries for nizicon, please encourage people to vote for your own entries on SNS and other social networking sites!
For nizima users: User Voting Participation Award
Amazon gift certificate for 3,000 yen
Noote: Anyone with a nizima account is welcome to participate.
You may win simply by voting for your favorite works among those participating in nizicon.
Note: Each person may cast up to three votes. Votes for the same work will be counted as one vote, no matter how many votes you cast.
Note: Amazon is a trademark of Amazon.com, Inc. or its affiliates.
Voting Qualifications
Precautions
How to vote
1. sign in to nizima

If you don't have an account yet, Let's join our site nizima!
2. click on the card you are interested in from the list of entries to nizicon.
3. Click the "Go to Voting Form" button at the bottom of the work detail page.
4. Fill in each item on the voting form and click the " Send" button to complete your vote.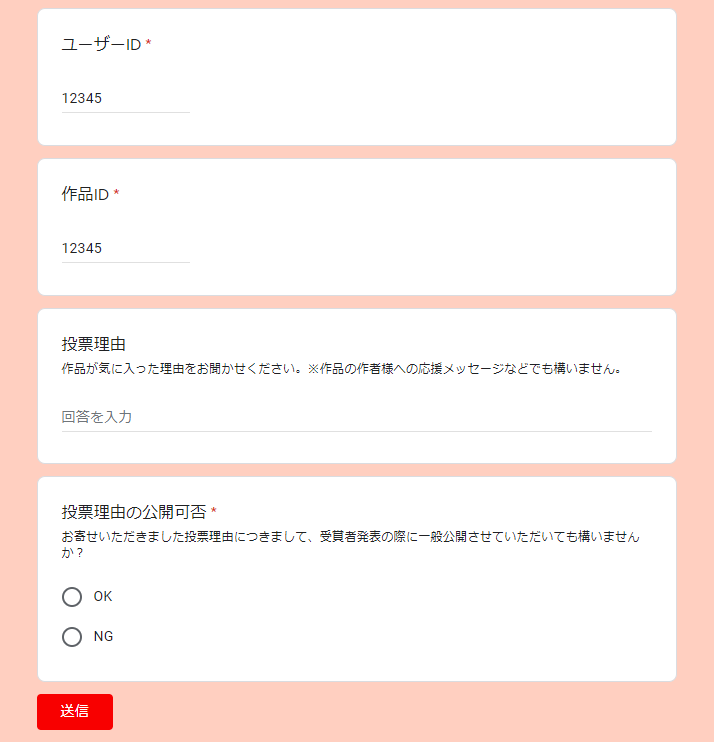 List of Applicants
Let's get to supporting your favorite work of art!